15 Best Things to Do & See in Siem Reap
15 Best Things to Do & See in Siem Reap
From the tomb raider temple "Ta Prohm" to the intricately carved Banteay Srei "The Pink Sandstone Temple", the national park of Phnom Kulen waterfall and Tonle Sap floating villages are extremely attractive which truly inspire your journey more exceptional, relaxing, and discoverable.
1. Angkor Wat Temple & The Small Circuit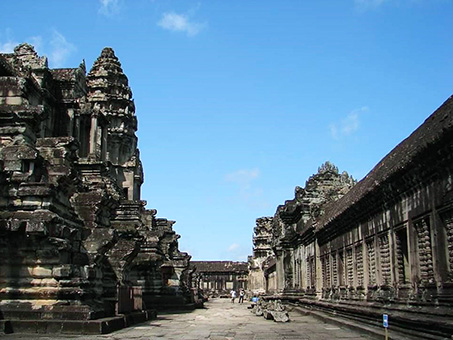 The marvelous Angkor Wat – the world's heritage listed by UNESCO in 1992 and the largest unrivaled monument in the world. Built by Suryavarman II in 12th Century, Angkor Wat is considered as one of the top destinations in Asia and is a must-see in your lifetime. Learning from your tour guide the amazing history, its ancestral incredible, architectural masterpieces and the finest carvings dates back to the Khmer Empire when it dominated the largest parts of Southeast Asia. Locates about 7km with 15 minute-drive toward northern Siem Reap, Angkor Wat temple is normally spent at least 2 hours to discover its amazing complex and it is programmed to combine the small circuit including Angkor Thom, South Gate, the smiles of Bayon temple, Baphoun… Ta Prohm temple adorned with the stunning giant trees.
2. Kompong Phluk Stilt Houses & Mangrove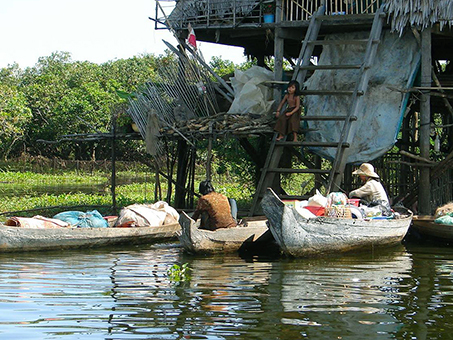 Kompong Phluk village is famed for its pleasant mangroves where you enjoy the rowing boat going closer to the lines of stilt houses arising from the water about 10m high then continue the canoe goes through the mangroves where you can catch beautiful photos and enjoy the serenity. Resume the boat excursion to visit Tonle Sap, learn about ecosystem, reveal lifestyle on the water and explore the surroundings. The village locates at the edge of Tonle Sap Great Lake which is widely known as the largest freshwater lake in Southeast Asia, just about 22km (30-40 minute-drive) from central Siem Reap. Tourists can access Kompong Phluk by overland from National Road 6, pass Bakong district onward direct to Kompong Phluk village or it is accessible by taking a local boat from Chong Kneas floating village through Tonle Sap Lake, which takes approx. 1 hour or 1.30 hours depends on the weather.
Note: Kompong Phluk is available in high water period from mid of September to January.
Read more about Kompong Phluk: https://www.guidingcambodia.com/travel-guide-cambodia/kompong-phluk-mangroves-stilt-houses-not-floating-village
3. Phnom Kulen Waterfall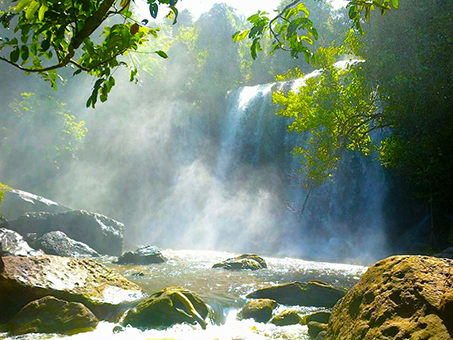 The fascinating waterfall is located in Phnom Kulen national park, about 57km with approx. 1 hour drive, Phnom Kulen is regarded as the holy mountain for religious significance to Hindus and Buddhists and was the significant home of the ancient Khmer Empire when King Jayavarma II proclaimed independence from Java in 804 CE. Walking up to the hilltop, there is the giant reclining Buddha statue where locals come to pray for happiness, standing with breathtaking, spectacular views and learn from your tour guide about historical site. Resume to walk passing small souvenir stores to witness religious Hindu of the riverbed of 1000 linga and observe the sacred pool before swimming, cooling off under the waterfalls and enjoying local food, fresh coconut under a cottage.
Phnom Kulen national park is also a great jungle spot for 1-2 nights adventure, camping and trekking or a fully guided classic trip can associate with Banteay Srei or Beng Mealea temple.
4. Banteay Srei Temple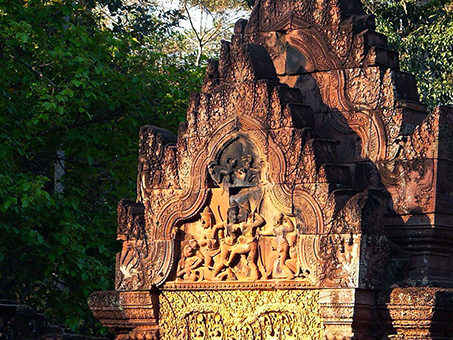 38km with an hour drive from central Siem Reap town, the intricately carved, beautiful red-pink sandstone temple of Banteay Srei (Or Citadel of the Women) is considered to be a Jewel of Khmer art which uniquely features elaborate decorations and its finest details, was constructed in 10th century before the incredible Angkor Wat, and dedicated to the Hindu good Shiva. Banteay Srei has come one of tourist's favorite temples and this is also a must-visit if you plan for 2 day-discovery of Angkor Complex and it is extremely appropriate for those who are interested in the history, architecture, art and photography.
5. Beng Mealea Jungle Temple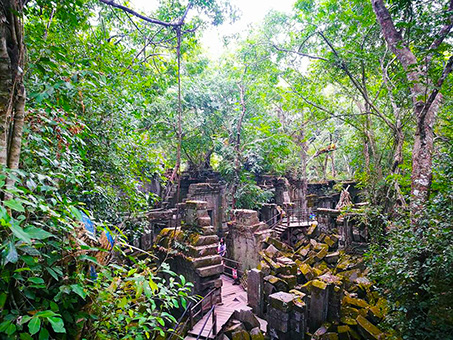 A remote temple sits among the lush jungle, about 65km with 1h 20m drive passing countryside towards east-northern Siem Reap. Beng Mealea temple was constructed in 12th century by powerful Khmer King "Suryavarman II", the same king who built Angkor Wat. The specialty about Beng Mealea is its serenity, very less touristy and you're about the only tourists who visiting the temple when you arrive and it is really appropriate for photography. This overgrown temple provides real adventure from the beginning, you can grab the greatest orientation to unlock the history, walk through wooden path & the stunning tree roots, and climb over the ruined rocks enhanced by the vegetation & the tranquility. It is a worth visit with having a few stop on the way where you observe locals making bamboo sticky rice with a chance for tasting, stroll around local market and have 30 minutes at stone quarry to learn how ancient Khmer amazingly cut/dragged huge panels of sandstone to build the temple.
6. A Bike Ride to Countryside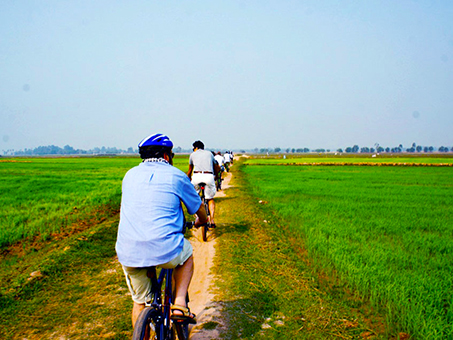 Away from the hassle Siem Reap city, you can make a gentle pace on mountain bike which is led by an escort guide and see beautiful hidden Cambodia countryside. Eventually, come across plenty of interesting farming & gardening activities depends on the season you visit the country, huge rice fields dotting with palm trees, cows and water buffalos. You will be always welcomed by kids with saying "Hello" to you. Your memorable ride takes you to see authentic Cambodia while you're riding pass to interact local people, visit local market, have a lot of stop to take beautiful photos or try to make your Khmer conversation with the locals.
7. Strolling Around Pub Street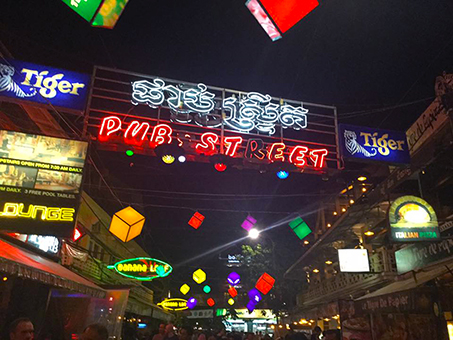 When the sun is set, walking from King Residence's park to old market, you will absolutely hear noises of motorcycle, the sounds of chopping and the music starts to play. The colorful Siem Reap Pub Street clusters different classes of bars, restaurants, boutique shops, spa massage and offers variety tastes of Cambodian & Western cuisines, A glass of local beer costing $0.50 or sipping cocktails at the bar corridor will make your evening cheerful and joyful or go to join the loud disco-music for funny dances at Temple Club.
8. Shopping at Angkor Night Market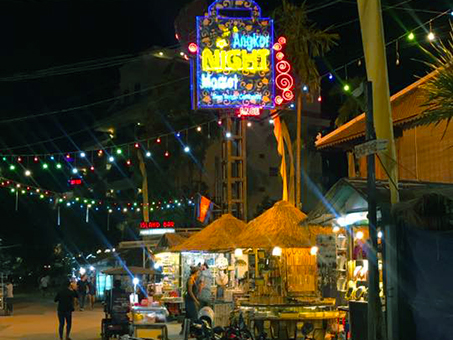 While night markets are booming in Siem Reap, Angkor night market is the first original night market which is an ideal looking and walking around for shopping but don't forget to bargain. It is the big night marketplace whose vendors sell plenty kinds of souvenirs, handicrafts, colorful Kroma (scarf) & silks, variety styles of clothes with elephant arts, handbags, statues, silver and bronze products, paintings and many more.
9. Eat Like Locals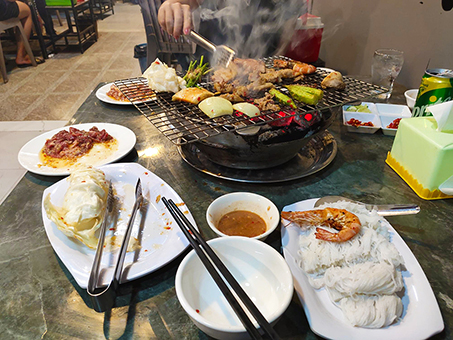 To make your travel experience unique and more memorable, spending an evening to enjoy local BBQ at Road 60 or at Red Crab BBQ offers many different types of local meats and fresh seafood including crabs, shrimps, prawns, oysters, shells. Sitting around a gas-cooker BBQ pot or charcoal grill, you serve yourselves from vegetables, meat and sauces station to your table while the BBQ pot is starting to get lit and you make your own favorite sauces even a spicy one.
Eating fresh vegetables combines roasted beef dipping into fermented fish-sauce mixing with lemongrass, peanut, chili and lime is also recommended and it is easy find a place near central Siem Reap City.
Cambodian hotpot provides a great experience in local family style which is not much different from BBQ style, it comes with its set with vegetables, sliced beef, soup-beef, eggs, noodles and sauces, and you can order extra vegetables and different meats as additional option.
10. The Cambodian Landmine Museum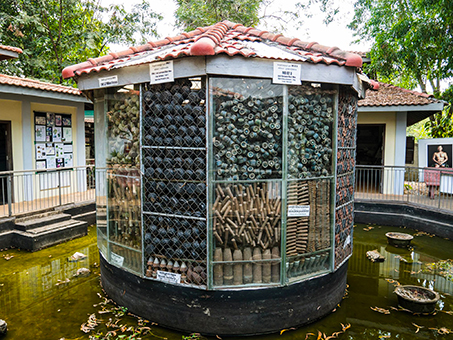 Founded by Khmer Hero "Aki Ra", a very young soldier that joined in the army and planted many landmines during civil war that took place for years and later returned to clear thousands of unexploded landmines by hand with his homemade tools. Opened in 2007 with the significant support from oversea, Cambodia Landmine Museum mainly focuses to provide visitors the major education of clearing landmines in Cambodia, get to know the dangers of landmines, its impact to the country in the past, present and future as well as witnessing more about the victims who suffered from the landmines. A guided tour takes you around the museum area displaying variety of ordnance and hundreds of defused landmines, and they open to welcome any questions you have or you can volunteer to work in the museum or museum's office and help teach English to children in the class at the back of the museum.
Cambodia Landmine Museum locates along the way to Banteay Srei temple, about 45-minute drive from Central Siem Reap City. The museum opens daily from 7.30am to 5.30pm and the entrance fee is $5.00 for adult, child under 10 years and Cambodian citizens are free of charge.
11. Angkor National Museum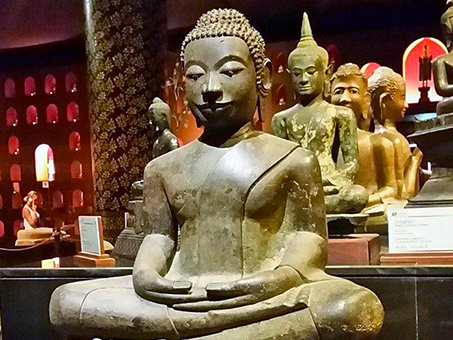 This is a worth visit for those who really font of studying arts, cultural heritage, Khmer history and civilization. The museum houses eight galleries which are beautifully presented and wonderfully informative, a lot of artifacts and the history dated from the pre-Angkor time (1s – 8th century) to the Golden Era of the Khmer Empire (9th to mid-14th century). Most of the artifacts are discovered and transferred from The Angkor Conservation Site and the National Museum in Phnom Penh Capital. Angkor National Museum has a very strict policy that not allow visitors to take any pictures, learn from your tour guide to get more information and audio guides are available at the entrance in different languages.
Angkor National Museum opens daily from 8.30am to 6.00pm and to 6.30pm in high season, the entrance ticket is $12.00 for adult and additional $3.00 for audio guide.
12. Cambodian Cooking Classes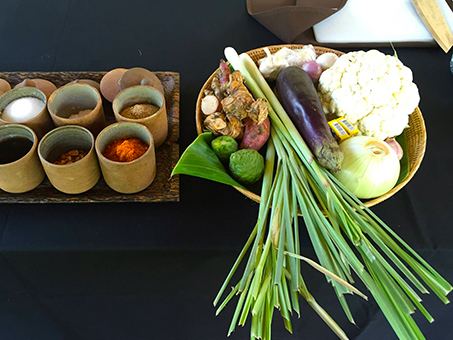 Once you're done the major tourist attraction and don't know what to do. Cambodian gastronomy can't end without "Fish Amok" or "Cambodian Red Curry", provides the half day to experience Khmer culinary including the famous main course "Fish Amok" or "Cambodian Red Curry", a starter and a dessert. A guided market tour leads you through a local market to understand Cambodian trades, bargaining, collecting & buying local ingredients, spices, meat and vegetables. Additionally, a guided tour to rural gardens to where you can grab fresh vegetables, herbs, lemongrass and learning about local household is also available depends on the location of cooking station they provides. Everyone will have their own cooking station, you hand on everything in the following steps which are directed by your chef. The cooking class generally takes approx. 3 ½ to 4 hours included the time of eating your own creation you made and a recipe book or a certificate will be handed at the end of the class.
13. Oxcart Ride & Walking Tour or Go for Biking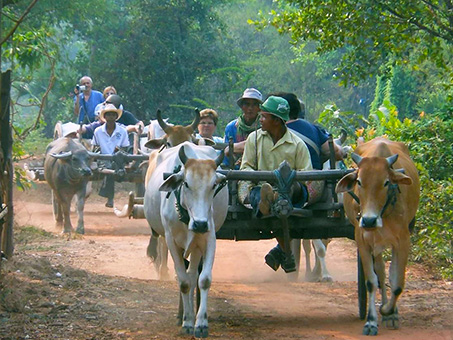 A village walking (or bike) tour can combine with a short ride on ox cart which only takes approx. 15-20 minutes and a long ride is not recommended. A local expert will guide you through a rural village, show you around and learn how the locals survive with their farms, animals and rice fields compare to a living in the city. It's a great chance to meet a host family for chatting, witnessing lifestyle, routine, culture, superstition and enjoy welcome fresh coconut and farewell tropical fruits. There is plenty of time to take interesting photos of local activities, beautiful rice paddies and the picturesque landscape.
14. Apsara Dance Performance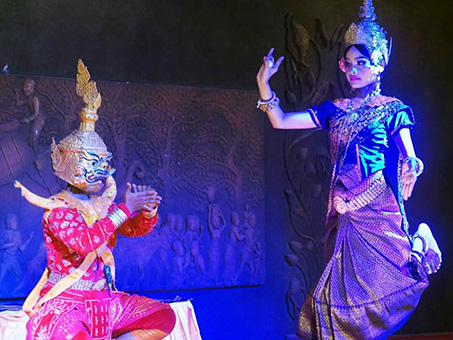 This should not be missed out when you visit Cambodia. Apsara dance is the traditional performance that has such a long rich history that rooted from Angkor Era dated to The Khmer civilization whose Angkor Wat walls comprise hundreds of Apsara carvings, and Apsara dance was only performed for the Royal King.
Nowadays Apsara dance performance is performed at some of restaurants, hotels and special outdoor events during the middle time of dining. Apsara dance performance normally combines with 4-5 different traditional shows such as Coconut Shell Knocking Dance, Fishing Dance… Apsara Dance is performed at the end of the show and overall, it takes an hour.
15. Phare Cambodian Circus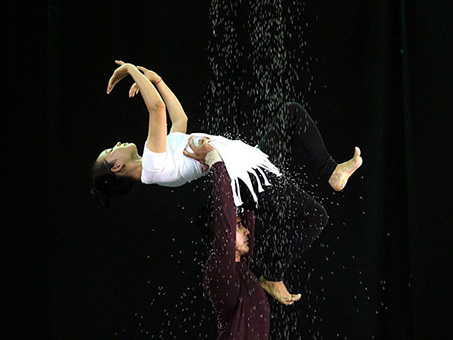 A social business, Phare Cambodian Circus is the unique creative entertainment which is performed by young Cambodian circus artists with their energetic, exotic style and talent, followed by
There are 3 sections for seating area "A", "B", "C" with different prices, Seat "A" lies with a few rows at the front of the stage, Seat "B" lines at the back of Seat "A" while Seat "C" is at left and right sides of the stage.
Note: Phare Cambodian Circus has a very strict policy of entering the circus tent, those who have arrived 1 minute late will be strongly asked to return for the next time. Being late can cause any incidences to the art performers because all lights inside the tent are off and can't turn it on if you are late.
Visit their website for more detail: https://pharecircus.org/
Like if you like this article