Guide to Exploring Tonle Sap Lake & Floating Village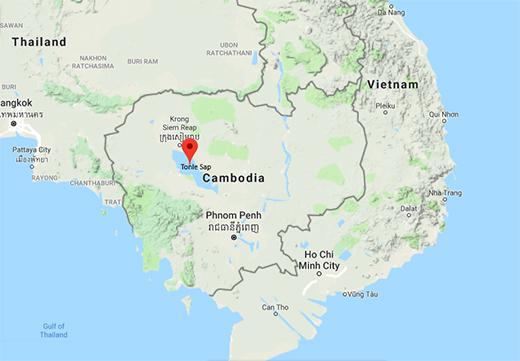 Tonle Sap or "The Great Lake" is the most important lake in Cambodia as well as the most extensive freshwater lake in Southeast Asia, supplies fishes to half of the country's population. Officially listed in 1997 as World UNESCO biosphere reserve, this ecological site is the significant home for many species including rare endangered water-birds and its inhabitants whose lives rely on aquatic resources, flooded forests and the wetland swamps plus. Tonle Sap covers an area of 2500 square kilometers during the dry season and variably enlarges up to 6 times (15000 square kilometers) with 5-10 meter depth in the wet season from mid of August to early October. Not only providing a great shelter for many species, biodiversity and irrigation system for agriculture but Tonle Sap also annually attracts millions of tourists to see its impressive floating communities in some of provinces including Kampong Chhang, Pursat, Battambang and Siem Reap with the most interesting Kompong Phluk, Kompong Khleang, Chong Kneas & Mechrey whose local lives are animated by fishing activities, trading on rowing boats and its unique way to make a living on the water.
When is the best time to see Tonle Sap Lake?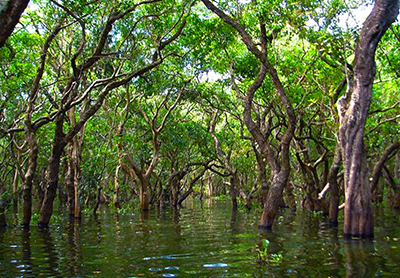 When the water culminates from September to Mid of October, it is pretty much easy for local motor-boats to get around all the way from the piers directly to its floating villages. Things look greener and more interesting river activities can be seen when the boats are cruising pass from one to others. However, the best time still continues until the end of December when the water stays calm and there is no rain from November.
Ideas of floating villages for best travel experience!
Kompong Phluk Stilt-House Village & Mangrove
is famed for its pleasant mangroves where you enjoy the rowing boat going closer to the lines of stilt houses arising from the water about 10m high then continue the canoe goes through the mangroves where you can catch beautiful photos and enjoy the serenity. Resume the boat excursion to visit Tonle Sap, learn about ecosystem, reveal lifestyle on the water and explore the surroundings. The village locates at the edge of Tonle Sap Great Lake which is widely known as the largest freshwater lake in Southeast Asia, just about 22km (30-40 mins-drive) from central Siem Reap. Tourists can access Kompong Phluk by overland from National Road 6, pass Bakong district onward direct to Kompong Phluk village or it is accessible by taking a local boat from Chong Kneas floating village through Tonle Sap Lake, which takes approx. 1 hour or 1.30 hours depends on the weather.
When is the time to see Kompong Phluk Village?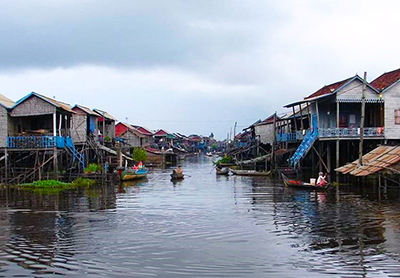 The best time to visit Kompong Phluk village is from September to January and morning tour is the most appropriate. Note: If you expect to visit any floating villages, you will definitely get disappointed because Kompong Phluk village doesn't have any floating homes.
More about Kompong Phluk: https://www.guidingcambodia.com/travel-guide-cambodia/kompong-phluk-mangroves-stilt-houses-not-floating-village
See tour sample: https://www.guidingcambodia.com/kampong-phluk-tour
Kompong Khleang Stilt-House & Floating Village
is the most extensive stilt-house community at the edge of Tonle Sap, renowned for its amazing clusters of high stilt houses and ideally admired by floating village. In 2-3 hours of boat excursion, you can visit both insights of interesting stilt houses & floating homes along with daily fishing/trading activities on rowing boats, learn about ecosystem, lifestyle rely on aquatic resources and observe how people make the lake as home.
In the very dry season occurring from February to May, the surrounding of stilt houses is accessible on foot, more ground activities can be explored including vegetable farming, smoked fish making, fixing fishing-net/traps, visiting school, local market trading and so on. However, the boat trip is available for visiting floating village at the other side of Kompong Khleang but keep in mind that the boat will probably get stuck in the mud and you should get the latest update information when you plan to visit Kompong Khleang from middle March to May.
See tour sample: https://www.guidingcambodia.com/kompong-khleang-floating-village
Mechrey Floating Village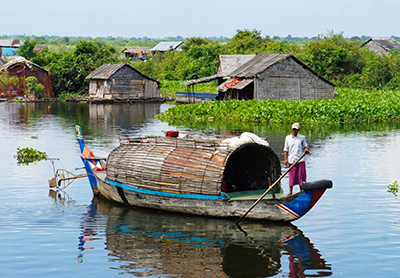 Offers half day trip to see its less touristy floating community of the impressive Tonle Sap Lake whose daily life animated by fishing/trading activities on their rowing boats and learn how life relies on aquatic resources. Local school and Buddhist pagoda are available for strolling around when your boat cruises away 4km from the boat dock. Unfortunately, Mechrey floating village has a limited period of the year for a visit, so make sure you plan to visit this village from September to January. By overland from central Siem Reap City, the journey makes approx. an hour from your hotel, drives along national road 6 to the west of Siem Reap about 12km and with 35 minutes through the dirt road, passing beautiful countryside, rice fields dotting with palm trees where you can have a photo-stop to capture picturesque photos before reaching Mechrey boat pier.
See tour sample: https://www.guidingcambodia.com/mechrey-floating-village-tour
Chong Kneas Floating Village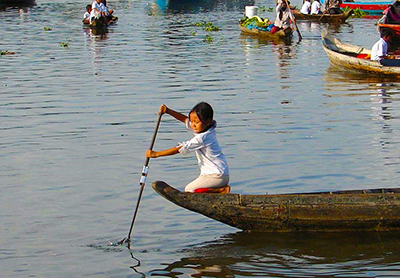 is the largest floating village of Tonle Sap which is popularly occupied by tourists and it is accessible for all year round but the boat trip doesn't smoothly run through the canal in the very dry season occurring from April to the end of July. However, there is NO choice if you plan to visit Tonle Sap in the very dry season that Mechrey, Kompong Khleang and Kompong Phlu are totally impossible.
Chong Kneas is remarked as the nearest floating community of Tonle Sap in Siem Reap, takes approx. 35 minutes by overland from central town and the boat excursion to visit the village and the surrounding is about 1 hours to 2 hours depending on your interest and if you have a local tour guide accompanying you, it will take an hour longer. The primary things to see are river life, fishing activities, selling goods & vegetables on rowing boats, floating school, market – overall it is quite similar to Mechrey & Kompong Khleang floating houses (except stilt houses). Moring, afternoon or late afternoon with sunset option are available per day and it is appropriate short day trip for those who don't have much time to explore Siem Reap.
A full day trip from Chong Kneas combines Kompong Phluk is also a custom-made if you're really font of discovering Tonle Sap's ecosystem and its rich biosphere.
Chong Kneas to Kompong Phluk tour sample: https://www.guidingcambodia.com/tonle-sap-lake-tour-full-day
Chong Kneas tour sample: https://www.guidingcambodia.com/tonle-sap-chong-kneas-floating-village
Warning!
There a lot of tourists have had bad experience on Chong Kneas floating village and many bad reviews about scam, cheating, hidden cost, pushing etc. can be found on TripAdvisor and on other giant travel communities. Ideally, Chong Kneas floating village is the last option for those who have a few hours for this trip and those who travel in the very dry season while other floating villages (Kompong Khleang, Mechrey etc.) are not interesting and not accessible due to the water level.
However, you can obviously avoid the scam, hidden cost, cheating and pushing on purchasing things if you book the trip from the right place who provides you accurate information and especially you have to have a local tour guide accompanying you in the boat excursion from the beginning of the tour to the end. While being with a local tour guide, the boat-man daren't push you to buy anything or even not ask you to pay extra for other services, you will feel comfortable and you only pay one price for your trip to Chong Kneas floating village.
Is driver able to help with this?
If you're lucky and found a driver who is honest, informative and warn you on what a scam should happen there and he is willing to accompanying you in the boat trip, YES this should be FANTASTIC and very useful. Remember that most of drivers work with boat association to make extra money on selling boat ticket and so on, and most likely drivers will not accompany you because they have to take care of their vehicles while they're awaiting for you during your journey to Chong Kneas floating village.
Prek Toal Bird Sanctuary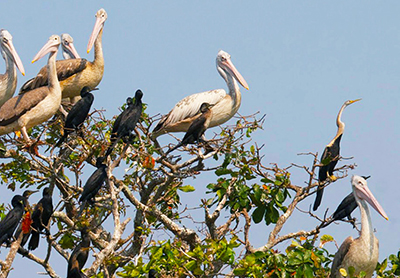 Locates in Battambang apart of Tonle Sap Lake, Prek Toal is truly famed for its special bird reserve as well as the most important home for hundred species within Tonle Sap Biosphere Reserve, a great lush area houses many endangered water birds including darters, little cormorants, grey herons, greater adjutants, milky & painted storks, black headed ibis, spot billed ducks and other species that yearly migrate from different sites of The Great Lake to gather at Prek Toal sanctuary for breeding during the wet season which gives the best time to observe, learn and witness how those lovely birds are concentratively being protected. The boat excursion provides picturesque views of The Great Lake, passing some floating villages animated by fishing activities, learning from your local tour guide how people make a living on the surface of Tonle Sap Lake while observing rare endangered birdlife in Prek Toal reserve area.
When is it a good time to visit Prek Toal bird sanctuary?
To avoid the disappointment, Prek Toal bird sanctuary can be only visible from middle of November to January when most of water birds including Greater Adjutants, Spot billed Pelican, Lesser Ducks, Comorans, Darters etc. are gathering to seek for food during the end of the breeding period before those migrate to other parts of Tonle Sap Lake. The best time to start is leaving downtown at 7.00am to Tonle Sap dock then embark a private local boat bound for Prek Toal. However, ensure that you should check for the latest update if you plan to explore the specialty of Prek Toal bird sanctuary.
See tour sample: https://www.guidingcambodia.com/prek-toal-bird-sanctuary-tour
Across Tonle Sap to Phnom Penh or Vice Versa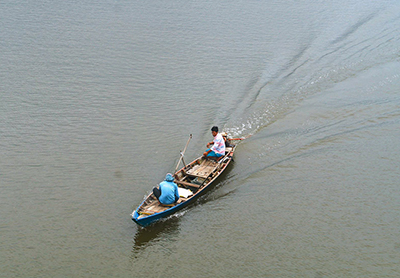 In full sense to discover the most Tonle Sap Lake & grab the insightful river life, a few nights on River Cruise is the greatest boat journey to see the largest freshwater lake in Southeast Asia. Capture the stunning river views of Tonle Sap & the mighty Mekong combining picturesque beauty of Cambodia meandering river which is animated by interesting river life, fishing activities and the highlight of floating villages, the gentle cruising on Tonle Sap & Mekong offers the best experience along with fresh breathtaking while unwind yourself on the cabin balcony. Inspiringly, the cruise adventure allows you to interact local people while on foot, your tour guide provides you the best insights of Cambodian lifestyle, experience short ride with fun on ox cart, get blessed by ritual water blessing and admired by tuk tuk to discover the island silk workshop. Your cruise journey will accomplish in Phnom Penh Capital of Cambodia or you can make this journey vice versa.
See tour sample: https://www.guidingcambodia.com/cruise-packages
Table of Contents
9 Best Things to Do & See in Sihanoukville
5 Best Sihanoukville's Islands & Koh Rong
How to get to Sihanoukville City, Islands & Koh Rong?
Cool Things to Do & See in Sihanoukville
Cambodia Southern Coasts
Phnom Penh Capital & Things to Do, See
About Siem Reap & The Surroundings
15 Best Things to Do & See in Siem Reap
Battambang & The Bamboo Train
Tribal Villages, Jungles, Wildlife and Nature
Cambodia Frequently Asking Questions
More Articles…
Like if you like this article