5 Best Sihanoukville's Islands & Koh Rong
About 232km from Phnom Penh Capital, Sihanoukville is known as the international, significant deep-sea port of Cambodia while the both fascinating Koh Rong & Koh Rong Samloem Islands have extracted hundreds of tourists around the world to see her beauty and the unspoiled surroundings. Sihanoukville is "A Small Country with a Big Heart" which reminds the event of 2,257 passengers and crews aboard The Westerdam Cruise Ship was approved to dock at the seaport of Sihanoukville on 13th February 2020 when Japan, Taiwan, Guam, Thailand and Philippines rejected the vessel dock due to the deadly Corona Virus.
Today Sihanoukville is rapidly booming the growth of development by Chinese Investment, the modern skyscrapers, luxurious condominiums, high-end restaurants, colorful bars, cozy hotels, gambling casinos, entertainment resorts and vast changes have made Sihanoukville become the second largest modern city or may be called "China Town" in the coast of south Cambodia. However, Sihanoukville is still one of interesting tourist destinations in Cambodia for those who seek for beach break, snorkeling, island hopping, scuba-diving, fresh seafood, gambles, casinos and nightlife entertainment.
Koh Rong Island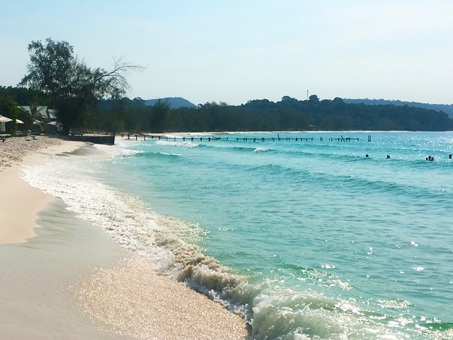 About 40km off the coast of Sihanoukville, the untouched Koh Rong or Island of Paradise is the warmest friendly, popular island in Cambodia, along with the pristine white sands and crystal ocean water of popular Sok San and Long Set beaches, and a great place for underwater discovery, kayaking, fishing, jungle trekking, wind-surfing and capture amazing photos of the bioluminescent plankton. Most of tourists purposely go to Koh Rong for a pleasant seaside, beach relaxation, unwinding yourselves with the stunning views and a family-friendly escape from a hassle city.
Koh Rong Samloem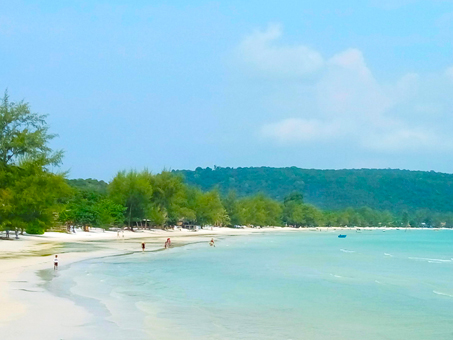 20km away from her sister Koh Rong Island, Koh Rong Samloem features the lovely sleepy seaside and the white sand beaches overlooking the jungle and mountains. Smaller than Koh Rong Island, the serene beauty is an ideal for those who likely prefer a quiet beach escape to isolate yourselves and your families. While on Koh Rong Samloem, you can do it yourselves a jungle trail trekking to the light tower atop Koh Rong Samloem mountain where you can take photo selfie, breathtaking and enjoy the panoramic views of the ocean and Thailand's islands. The trekking takes approx. 1 hour per way through easy jungle trail with sounds of birds and wildlife.
Song Saa Island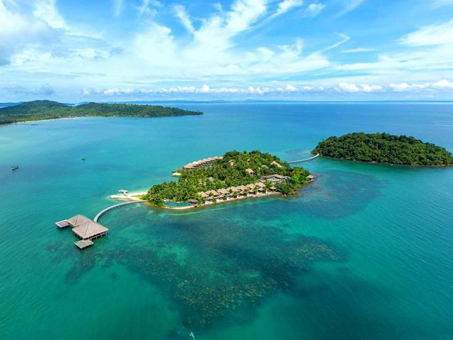 Indulgently unwind your excellent relaxation, Song Saa Private Island is the only luxury escape for a family and couples who truly look for the well-being, romantic wedding and honeymoon on a carefree tropical paradise. While getting inspired by the pristine private beach, the locally crafted wooden villas exclusively offer a great experience of a luxurious stay along with private pools facing to the jungles and overlooking the blue crystal ocean water. The ultimate wellness, Spa Massage, fine dining, Buddhist ritual blessing, snorkeling, underwater discovery and water activities can be arranged by Song Saa resort.
Koh Russei (Samboo Island)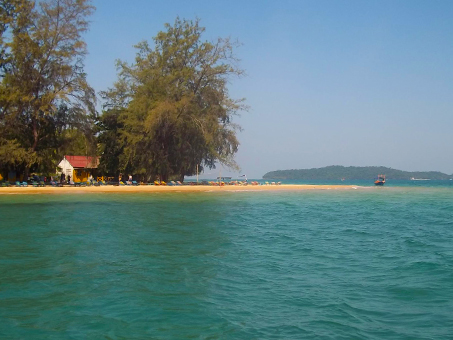 In Khmer language "Koh Russe" or Bamboo Island is a small gorgeous island about 4.5km off Sihanoukville's coast and takes approx. 15-20 minutes from the bustle mainland pier of Sihanoukville. This island is a warm friendly place to escape, the white sand beach and crystal ocean water are the deals for tranquil swimming and sunbathing likely you're the only persons on this earth. The west part is still under development of a luxury resort which was formerly known as Alila Villas Koh Russey offered specious modern villas facing to the jungle and swimming pool next to its private pristine beach.
Ta Kiev Island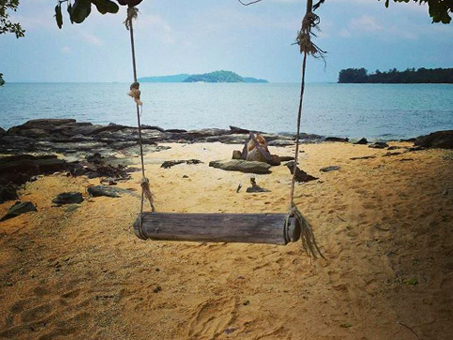 Locates between Koh Russei and Ream National Park, and 4km off the coast of Sihanoukville, Ta Kiev Island serves as the untouched retreat, a quiet home to nature being and friendly ambience for beach experience. Unlike Koh Rong and Koh Rong Samloem, Ta Kiev Island has a limited of infrastructure and accommodation facilities due to the slow arising development but it's a nice beach destination to escape from the crowds and unwind yourselves on its white sandy beach and swim in the blue ocean water. It's interesting to walk through the jungle path to explore the surroundings and fishing village admired by island life, and island hopping, snorkeling, kayaking and sunset boat cruise are available on this island.
There are several options to reach to Ta Kiev Island but by time you plan to spend a few nights on the island, you should check out for the latest update information before you go.
• Private charter boats either from Ream beach or main piers of the mainland.
• Daily speed boat 2 times per day leaves from Otres beach.
• By luck to share a long-tail boat with locals
Table of Contents
9 Best Things to Do & See in Sihanoukville
How to get to Sihanoukville City, Islands & Koh Rong?
Cool Things to Do & See in Sihanoukville
Cambodia Southern Coasts
Phnom Penh Capital & Things to Do, See
About Siem Reap & The Surroundings
15 Best Things to Do & See in Siem Reap
Battambang & The Bamboo Train
Tribal Villages, Jungles, Wildlife and Nature
Cambodia Frequently Asking Questions
More Articles…
Like if you like this article