A pudding whose aging matures the taste, made by dairy farmers on a ranch in Saga!
During the Edo period, when Japan was under isolation, Nagasaki and Dejima were the only places allowed contact with foreign countries.
On the Nagasaki Highway, which was used to transport the sugar unloaded in Dejima to Kyoto, Edo (Tokyo), and other cities, various sweets like castella, yokan, and konpeito were born. The Nagasaki Highway also became known as Satou no Michi, or Sugar Road.
Along this Sugar Road, Otomi Ranch Flying Cow has a sales office selling sweets with no additives, no artificial colors or artificial scents that bring joy!
Introducing the pudding made by real dairy farmers whose aging matures the taste.
〇3 Years in Development! A Caramelized Pudding Meticulously Built Around the Concept of 3 that is Only Made at the Ranch.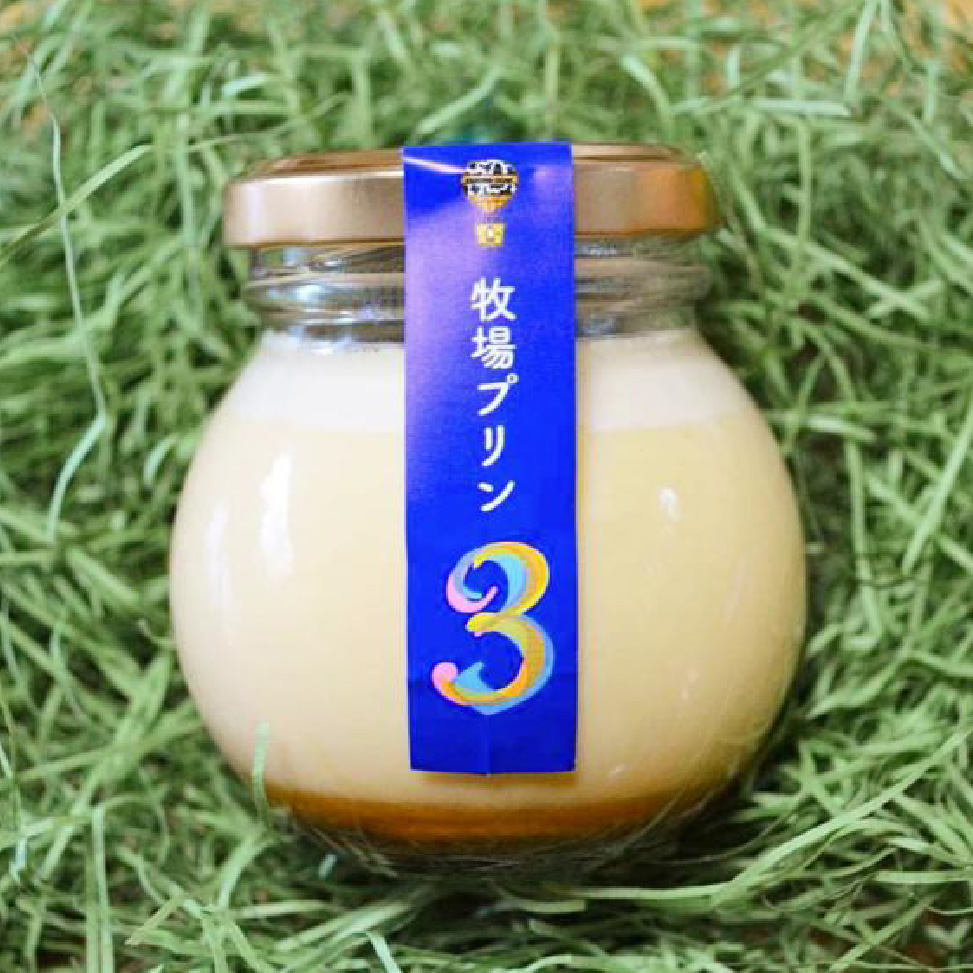 It was about three years ago that the decision to commercialize a pudding snack popular with kids was made and development began. Our Ranch Pudding 3 was born out of 3 years of trial and error, adding and subtracting different ingredients and trying out various recipes. The number 3, which is also the product name, is packed with immense dedication.
Many of the pudding recipes on the market are thickened with fresh cream and are certainly delicious, but these results are achieved without using fresh milk.
Through various attempts to create a pudding unique to the ranch we created this delicious mix of three key ingredients:
・ Fresh raw milk from Otomi Ranch
・ Saga eggs
・Millet sugar from the Amami Islands
We use carefully selected high-quality materials.
Our product is made around this concept of 3: we use only 3 ingredients, it takes 3 hours to produce the freshly squeezed milk, our raw milk is produced as a result of a 3-step eco-friendly Circular agricultural process, and also because we are the third generation of ranchers at Otomi Ranch. Three even rhymes with free, like the feeling of walking free on a sunny day.
Sterilization, usually performed at a high temperature of 120° C, is performed at a lower temperature of 65° C to retain the natural flavor of the raw milk. In addition, this method naturally divides the milk into layers, creating a cream-like layer on top of the pudding without using fresh cream. The pudding has three layers including a caramel layer at the bottom.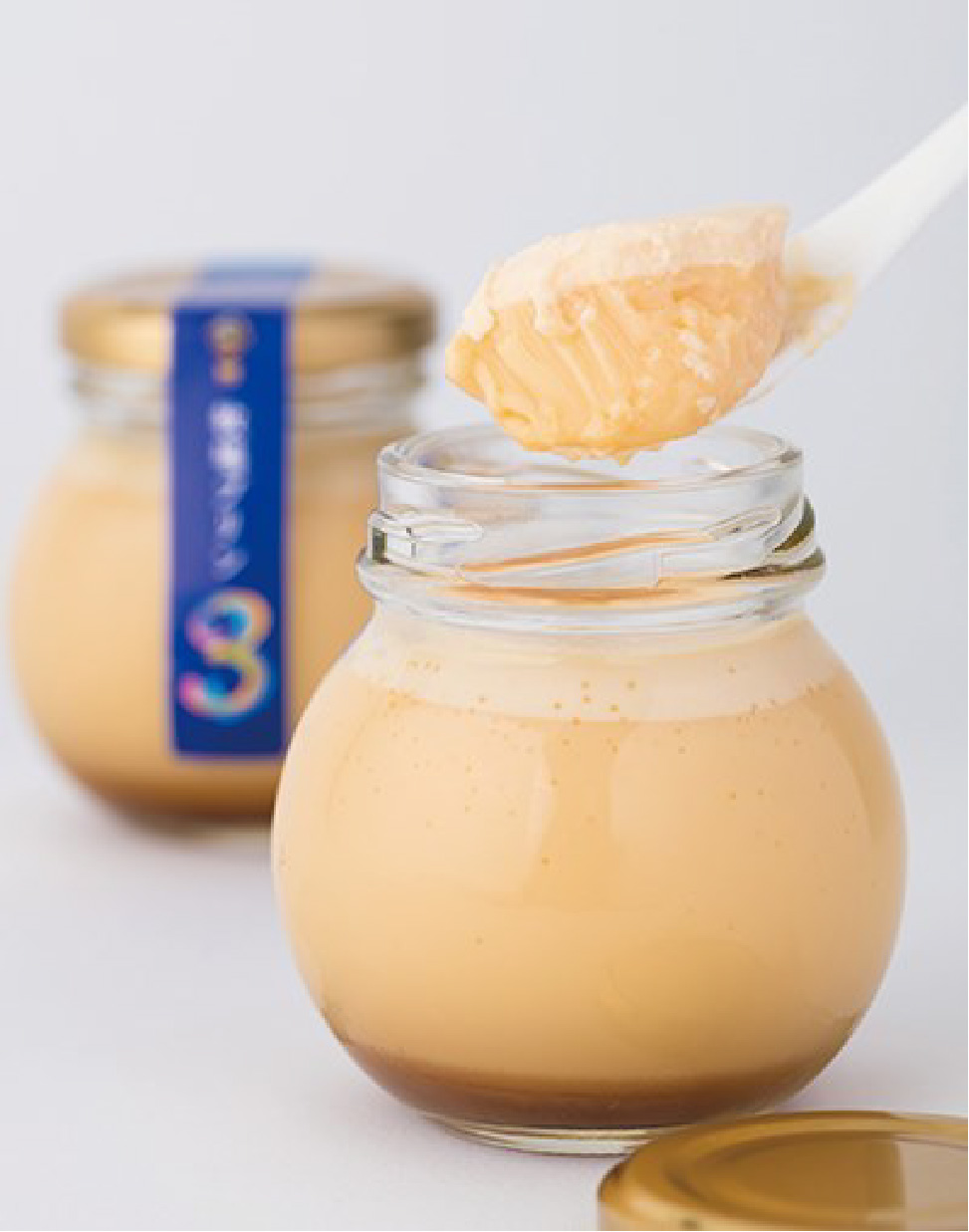 〇The Taste Matures with Aging!
Since this pudding uses fresh ingredients with no additives, it is also special since the taste matures over time.
After the pudding is manufactured, the 1st and 2nd days yield a strong taste of eggs and a sharp richness and sweetness. On the 3rd and 4th days, the taste becomes rich and well-balanced. On the 5th to the 7th days it develops a rich and mellow taste. The upper cream layer becomes like butter.
* Each batch of pudding matures differently.
Depending on when you eat it, you can enjoy all three different stages of this pudding.
Plus, there are various ways to enjoy our pudding! Not only can you eat it as is, but you can also put it on bread and enjoy it as a delicious spread.
〇Other Particulars
In Saga, where Otomi Ranch is located, a world hot-air balloon competition is held every year. When you turn the cute, round pudding bottle over it becomes like a hot-air balloon. The logo also features a hot-air balloon motif.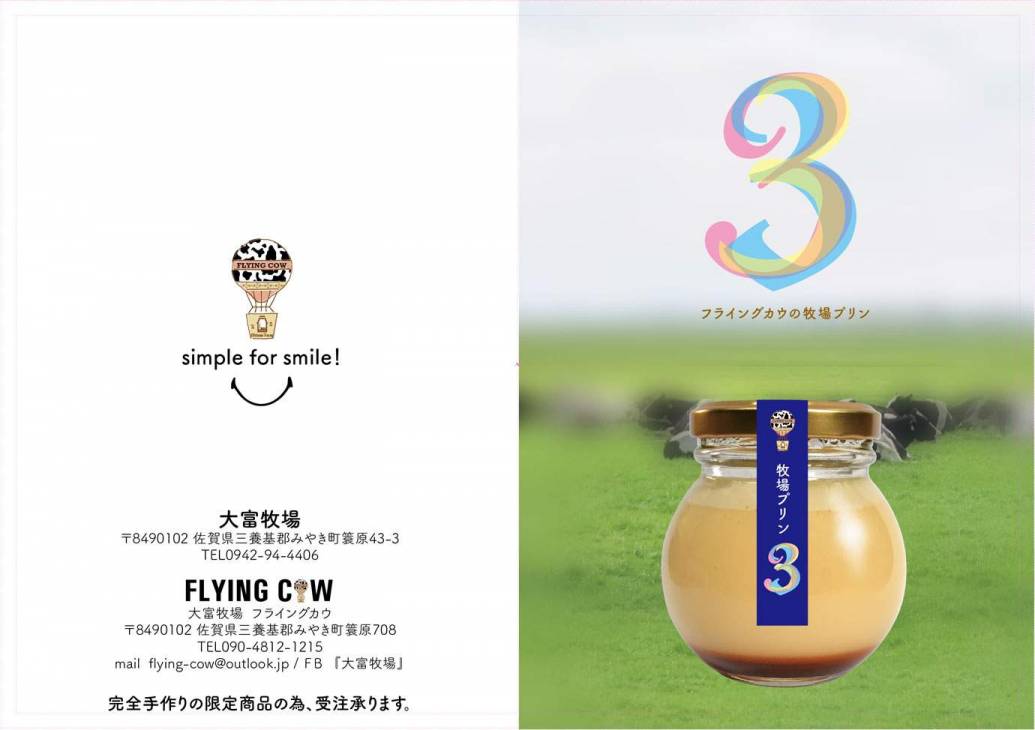 〇Sales Location and Price of Pudding
The price is 400 yen for one container.
They are sold every Friday from 11:00 am to 4:00 pm at the direct sales office in Miyaki Town, Saga Prefecture.
In addition, containers are sold at the Pudding Fair held at certain convenience stores in Saga and Nagasaki prefectures from December 30, 2020.
Mail order is available at Rakuten and Rakuma.
[Click here for each mail order link]
・Rakuma https://fril.jp/shop/flyingcow
・Rakuten https://item.rakuten.co.jp/omotesando-club/ootomi-pudding6/
〇Saga is the Pudding Prefecture! Project Starts
As mentioned at the beginning of the article, Saga is the Sugar Road connecting Nagasaki to Fukuoka.
Perhaps because of that history, statistics from 2018 show that Saga had the highest per capita consumption of pudding in Japan! It also ranked second in 2019.
In order to spread the message of all of the delicious pudding hiding in Saga nationwide, the Saga is the Pudding Prefecture! Project was started. The first step involves making a pudding map. We are working hard to complete it by the end of the year so that more people can check the map and try the different varieties of pudding in Saga Prefecture.
〇About the Otomi Ranch
The ranch has been around for about 50 years, raising a total of 250 dairy and beef cows based on a philosophy of "making a contribution to society with dairy" and "the well-being of cows leads to the well-being of people."
In addition, Otomi Ranch is a certified dairy farm where lessons on food, work, and life are learned through dairy farming. Having acquired Facilitator Certification (a qualification to teach children about ranches), we travel to various parts of the country as an educational farm to teach about the cycle of life and about ranches.
– INFORMATION –
Otomi Ranch Flying Cow
Address: 708 Minobaru, Miyaki-cho, Miyaki-gun, Saga Prefecture 849-0102
Contact information: 090-4812-1215
Selling times: Every Friday from 11:00 am to 4:00 pm
Instagram https://www.instagram.com/flyingcow_ohtomi/
Facebook https://www.facebook.com/ootomi/
Like if you like this article