Yoshinogari, a Town Where You Can Still Hear the Whispers of People 2500 Years Ago
I'm Chris Williams from the United States. I came to love Japan when I came to study abroad in college, and after returning to the United States, I came to Japan again and have been working in Japan for more than 8 years. I especially like history, so I visited the Yoshinogari ruins, which are said to be a restoration of life in the Yayoi period.
About 1 hour (860 yen) by train from JR Hakata Station, get off at Yoshinogari Koen Station and head to Yoshinogari Historical Park, about a 15-minute walk from the station.
The Yoshinogari ruins in this park are Yayoi period ruins that were excavated about 30 years ago and people resided here for about 700 years from the 5th century BC to the 3rd century CE. It is a precious archaeological site today. It is said that the real ruins are preserved in the ground to prevent weathering and the restorations are built on top.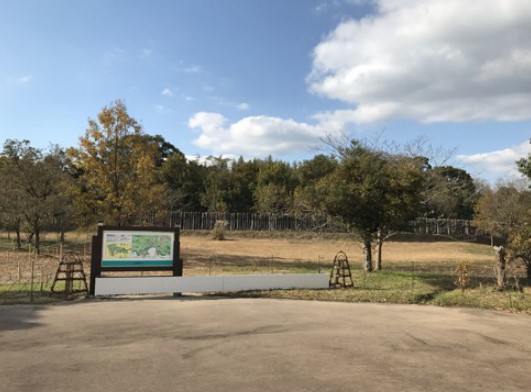 The entire area of ​​the park is about 117 hectares. It takes half a day to walk the entire site but there is a free park bus that runs regularly making access more convenient.
A short walk from the entrance of the park, there is a wall made of rugged wooden stakes and the remains of a moat. Around the moat, there are many wooden stakes called sakamogi, which are buried into the ground to secure them up. Inside is an ancient village but it seems that all of these spikes were not to keep wild animals out, but to prevent invasions by neighboring peoples.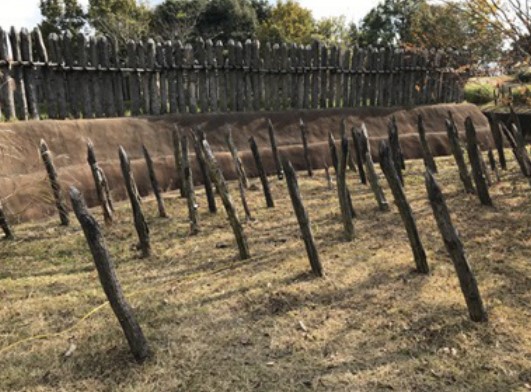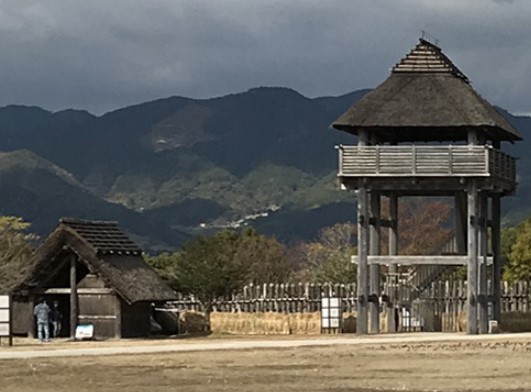 First, you pass through the southern village where ordinary people lived and then head to the warehouse and city center, which are lined with stilt watchtowers. You can climb one of them in the southern part of the interior city. When you climb the 12m-long tower, it is quite tall and you can see quite far into the distance.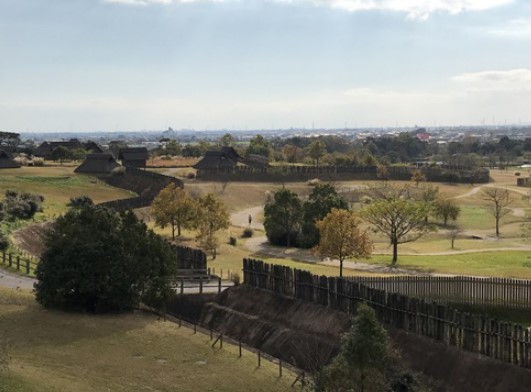 The houses where people lived are half underground. This way, it remains cool in summer and warm in winter but would still be difficult to live in during heavy rain.
The northern area of the village was once a place of politics with high wooden stake walls and deep moats with tight security.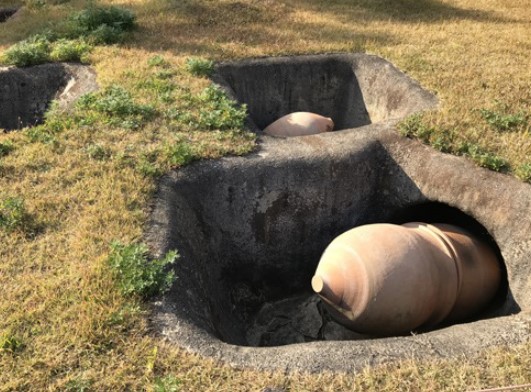 Further north, there is a row of mounds in the ground meant to reproduce the ancient grave sites, and after that, there is the Kita Tomb, where the real burial caskets and remains from about 2200 years ago can be seen. It was as if I had traveled back in time, and I could almost hear the whispers of the ancient people mourning the dead.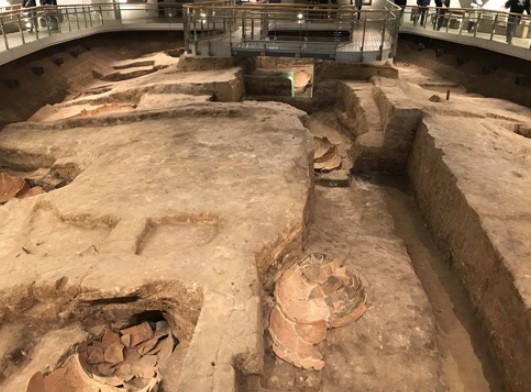 After the tour, I participated in making my own magatama jewel at the Yayoi Living Hall. The time required to complete one jewel is about 1 hour, and you can experience it for 200 to 250 yen. We grind a square stone with a whetstone to make the magatama jewel, an accessory of ancient people. You can choose from 4 colors of stone.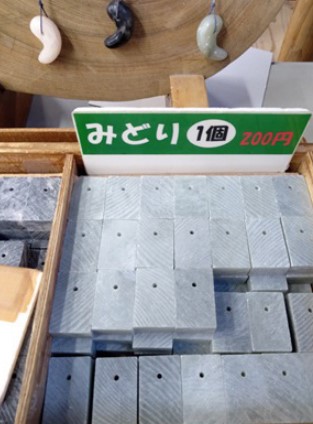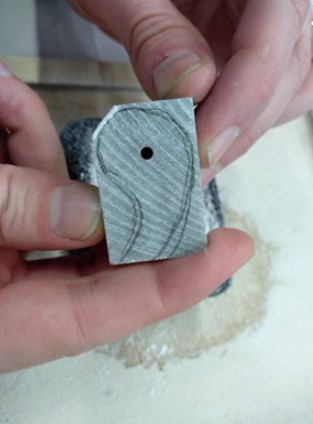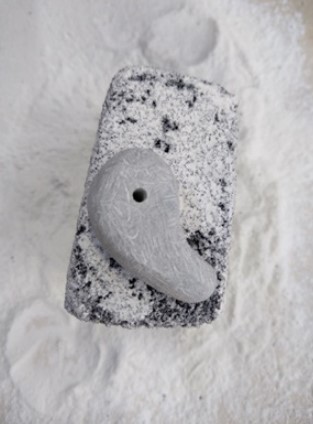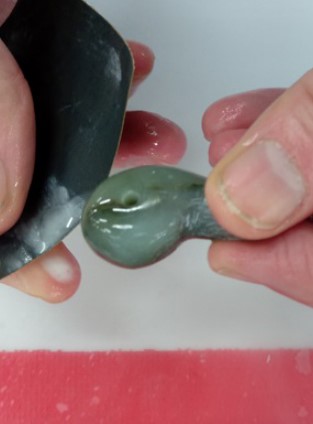 Gradually becoming a magatama jewel
At the end, soak the jewel in water and polish it with sandpaper to finish! The magatama jewel I made from scratch with my own hands is a great souvenir to remember your experience in the park.
In addition, there are various other activities you can enjoy such as barbecue, disc golf, a small animal petting zoo, a fire making experience, and even workshops to make mirrors and swords that were ancient burial items alongside magatama jewels.
(Some coronavirus countermeasures are currently being suspended.)
Yoshinogari Historical Park
There is also a popular market called Yoshino Bakubei near Yoshinogari Historical Park. At the cafe and stone oven bread studio, you can enjoy delicious freshly baked bread and sweets and shop inside the market where you can find items like fresh vegetables, fruits, and freshly made tofu and more.
In addition, Kitamura Soy Sauce Brewery, which has been operating in Yoshinogari for over 65 years, manufactures soy sauce and miso using pure water from the Sefuri Mountains.

At Yoshinogari, I enjoyed experiencing the lifestyles of people who lived more than 2000 years ago. Why not go to Yoshinogari Town on a journey to follow in the footsteps of people who lived in ancient times.
Like if you like this article