A Trip to Kanzaki, a Post on the Old Nagasaki Highway, in the Footsteps of Travelers from the Edo Period
I'm Chris Williams from the United States. I came to love Japan when I came to study abroad in college, and after returning to the United States, I came to Japan again and have been working in Japan for more than 8 years. I especially like history, so I traveled to Kanzaki City, which is famous for its historic Old Nagasaki Highway (Nagasaki Kaido in Japanese), built in the Muromachi period and which prospered as a post in the Edo period, to follow in the footsteps of travelers from long ago.
Kanzaki City, Saga Prefecture, is located in the eastern part of Saga Prefecture. The northern part is home to the Sefuri Mountains, with an elongated shape spanning from north to south. I arrived at Kanzaki station from JR Hakata Station, which took about 1 hour (860 yen) by train. When leaving the station, built in the shape of a stilt warehouse from the Yayoi period famously found at the nearby Yoshinogari ruins, a statue of Himiko with a height of about 5 meters welcomes you. Himiko was the priest-queen of Yamataikoku (a country mentioned in ancient Chinese texts), said to have existed in ancient Japan.
It is said that the statue points to the Yoshinogari ruins located 600 meters away.
A 10-minute walk southwest of the station is Kushida Shrine. This shrine, with a history of 2000 years, gathers and enshrines many gods of neighboring shrines since ancient times.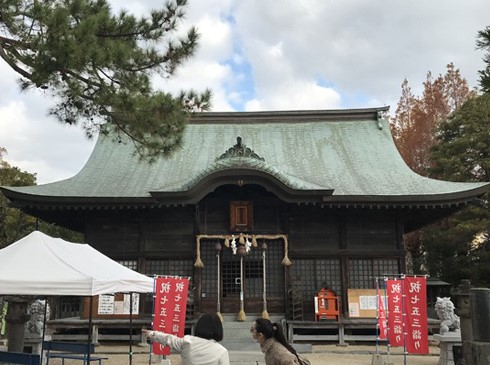 There is also a sumo ring and a Noh stage set up in the historic shrine. Sumo and Noh, traditional Japanese performing arts, are said to have originally been performed in Shinto rituals dedicated to the gods.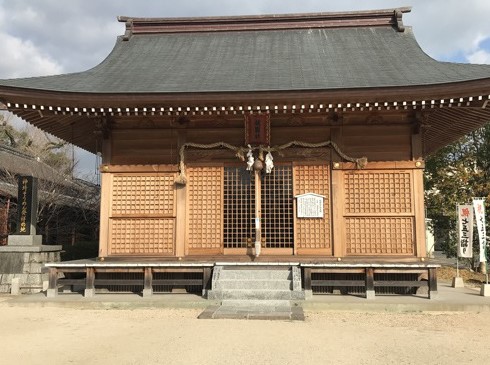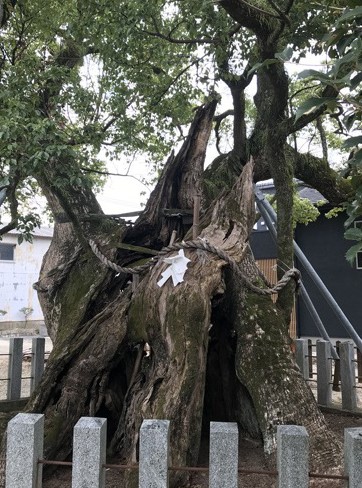 Koto Kusunoki is a tree on the grounds said to be 1800 years old. It is said that if you hold your breath at the base of this tree and turn seven and a half times, you can hear the sound of a koto play from out of nowhere. Once upon a time, according to legend, there was a bud that sprouted from where a koto made of camphor wood was buried. It seems that no one has succeeded yet, but if you are confident in your abilities you can give it a try.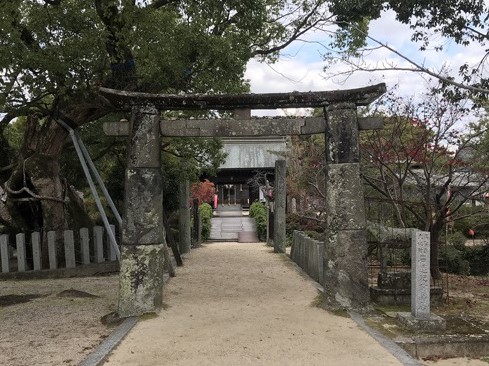 Hizen torii are torii gates made of stacked stones. It is the oldest in this area, and it apparently has not collapsed even after two recent level 5 earthquakes. A true example of old craftsmanship!
Originally built in the Muromachi period, the Nagasaki Highway was maintained and named during the Edo period. Warriors used to travel this path to prepare for war.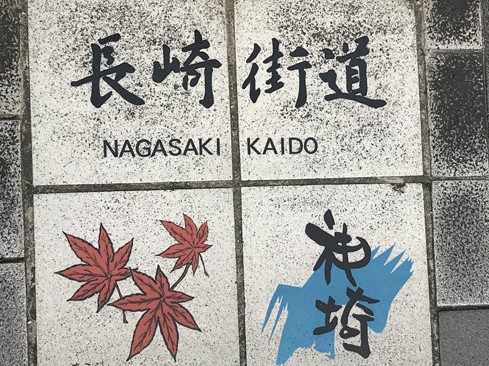 Shortly after walking along the highway, there is a stylish building on my left. This building, built in the Taisho era, is the Kanzaki branch of the former Koga Bank. After it ceased to be a bank, it was used as a maternity hospital and dental clinic.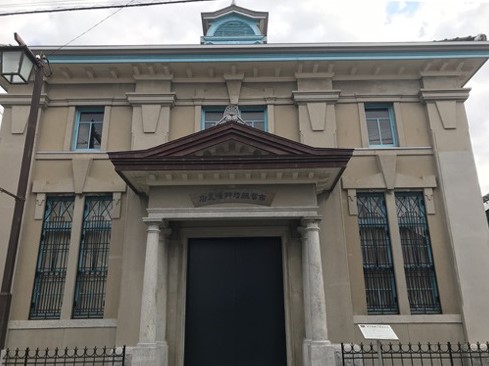 As you walk further up the highway, there are several shops that make somen noodles, a specialty of Kanzaki City. It is said that Koga Noodles, which has been in business for 100 years, produces 10,000 packs a day. Somen noodles are left to rest for half a year which gives their characteristic smooth texture and can be eaten to your heart's content.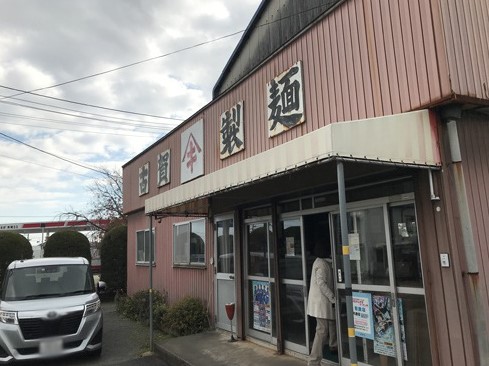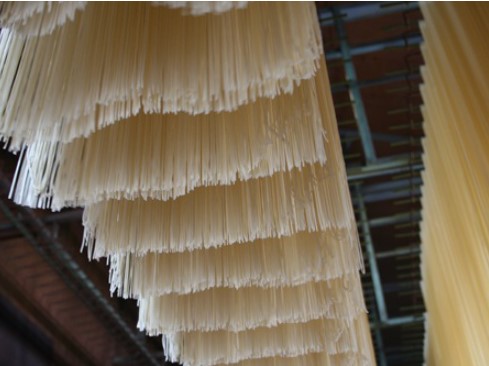 If you go further along the Nagasaki Highway, you will see many temples. Among them, I visited two magnificent temples.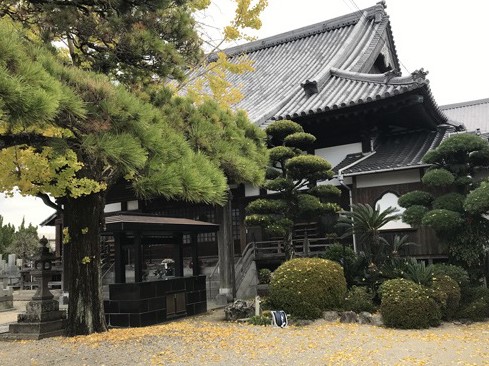 Shinkoji Temple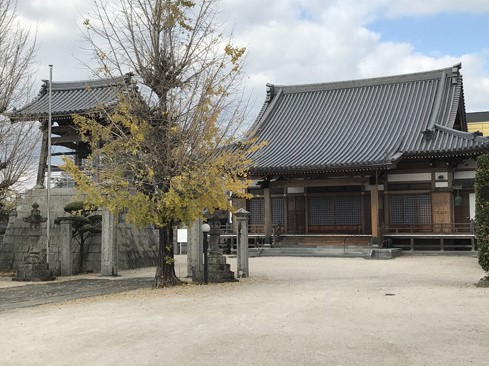 Jokoji Temple
During the Edo period, important diplomats and figures stayed at these temples as Wakihonjin (lodgings for minor officials). Foreign dignitaries such as Siebold and Kaempfer also stayed here. Kaempfer wrote in his diary when he stayed that the sound of the temple bells were very noisy. There are many temples in this area.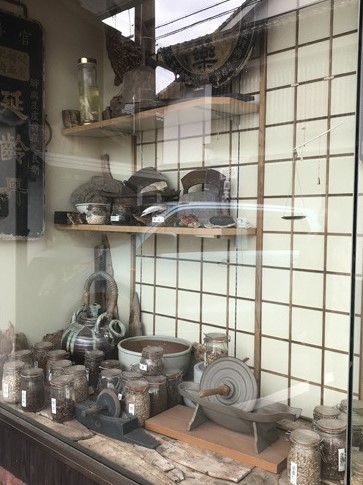 Kobayashi Pharmacy, which has been open for many decades. One corner of the shop window has an exhibition corner displaying ingredients used in and equipment used to make traditional Chinese herbal medicine.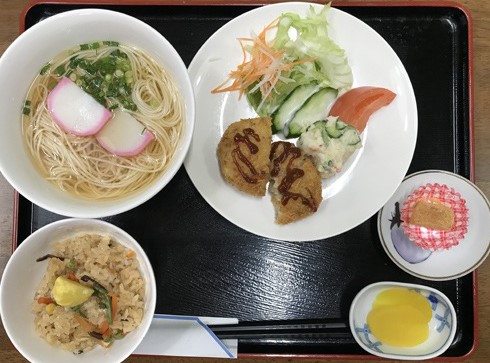 We had lunch at Kanzaki Shukuba Chaya near the western end of Kanzaki Shuku that extends along the highway.
There is a set featuring the famous somen noodles, white rice, and a croquette made with plenty of local vegetables and a batter with fried somen noodles mixed in is crispy on the outside, and moist on the inside with a wonderful texture!
At the western end is Nishinokido, the entrance to the Kanzaki highway post.
Moving eastward you see the Kido ruins. There is Hinohashira Ichirizuka, a milestone for travelers during the Edo period. It seems to be the only one remaining along the Nagasaki Highway.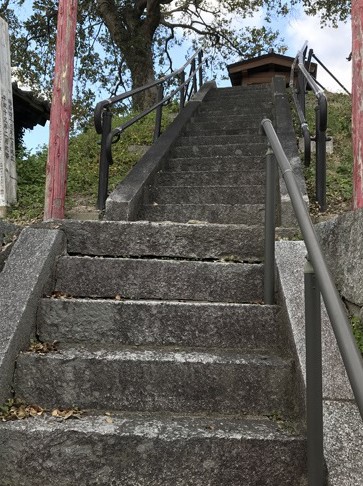 In Kanzaki, north of Kanzakinoshuku is the Kunenan Gardens, is the residence of the Itami family (a large business family in Saga) and Niiyama Shrine, which enshrines the gods of mountains and agriculture. Both are famous as sites to enjoy watching the autumn leaves turn, and many tourists visiting the gardens in the spring and in the fall.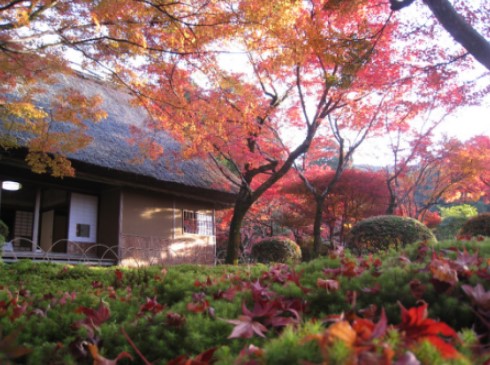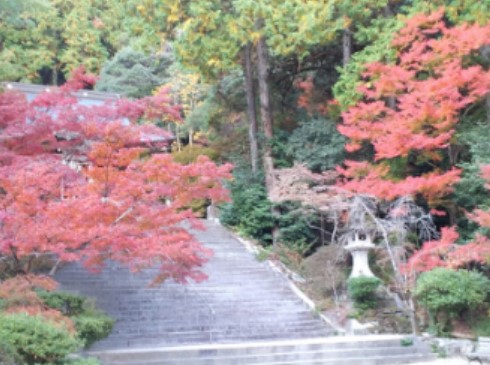 In Kanzaki, home to the historic old Nagasaki Highway, the main road for people's journeys during the Edo period, you can enjoy experiencing the lifestyles of people from the past. Why not go on a journey in Kanzaki to follow in the footsteps of history.
Like if you like this article