Ureshino and the famous yudoufu in Kyushu
Hello, my name is An. I am an international student from Vietnam. I am currently studying at the College of Tourism and Foreign Languages, and also a member of the Fukuoka Oversea Students Association (FOSA). I have been to Japan for more than three years, this country has brought me many joys as well as beautiful memories. One of the things I like most is traveling and exploring this beautiful land of mourning. Every time I introduce a certain tourist destination, but this time I not only introduce a place, but also would like to specifically introduce to you a Japanese food. "Yudoufu" (also known as stewed tofu, boiled tofu), is a specialty dish of Ureshino City, Saga Prefecture.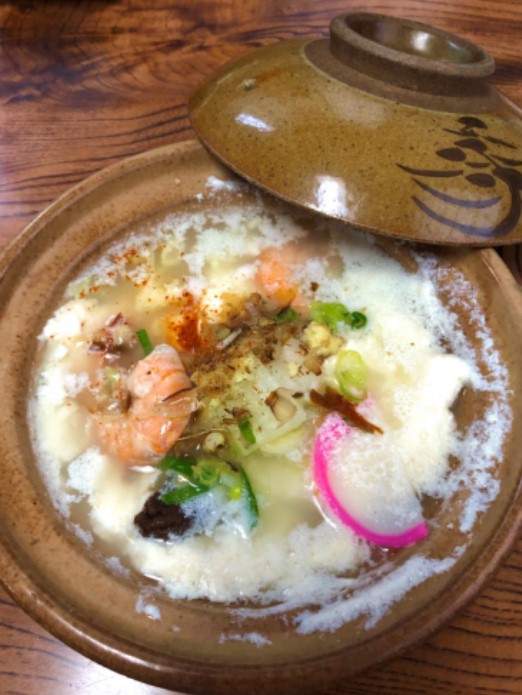 Saga Prefecture in Japan is famous for its ceramics, hot springs and delicious – exclusive food. Saga Prefecture is a great area for picnics and you can also enjoy the beautiful dressing-changing scenery here. Although it is only quite small, this will be a land not to be missed when coming to Kyushu. Come and discover a rich traditional Saga with the famous tofu stew!
Ureshino is a city of Saga Prefecture. The city was created on January 1, 2006 after entering the towns of Ureshino and Shiota. Ureshino is famous for its green tea and onsen bath spots, especially the Ureshino hot spring as well as the yudoufu. Yudoufu is one of the specialties of this city. Yudofu is especially famous because of its unique cooking method and harmonious accompanying flavors. It is a dish that uses boiled broth to cook tofu until it softens. In Ureshino City, this simple dish is upgraded with hot spring water, cooked with soybeans and special vegetables from Saga Prefecture. The water of the Ureshino hot spring helps spices to penetrate deeply into the ingredients, creating an extremely nutritious dish. This dish is said to be good for your health.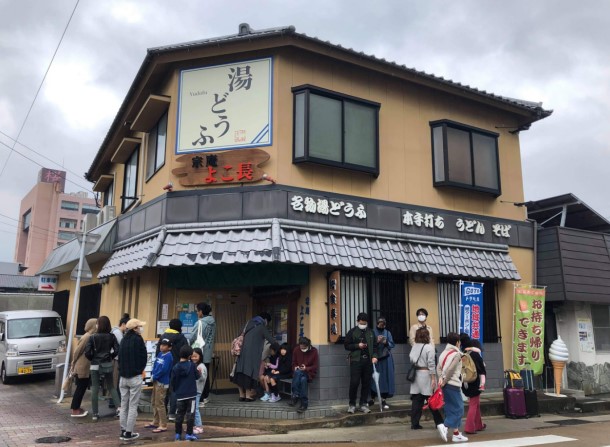 A famous restaurant for this yudoufu is Yokocho in Ureshino. Can you believe it if I said I had to wait almost three hours to get in. There were a lot of customers standing outside, and those who came to eat had to write their names down on a piece of paper and wait for their turn to be called. There is a spot close by for a free hot foot bath. Because it was raining while waiting, we decided to go there and soak our feet. There were also many customers waiting to eat and sit here. Actually I am someone who doesn't like waiting, but I don't know why people wait for hours just to eat this kind of food. So I thought maybe it tasted really good and decided to wait and try.
From the outside, it was a two-story building. But only serving guests on the first floor. Inside, there are both tables and chairs, and sitting on the Japanese-style floor. Because this dish takes a long time to cook, we had to wait more half an hour after entering. I chose a set of tofu with both sashimi and rice for 1530 yen (about 330 thousand dong).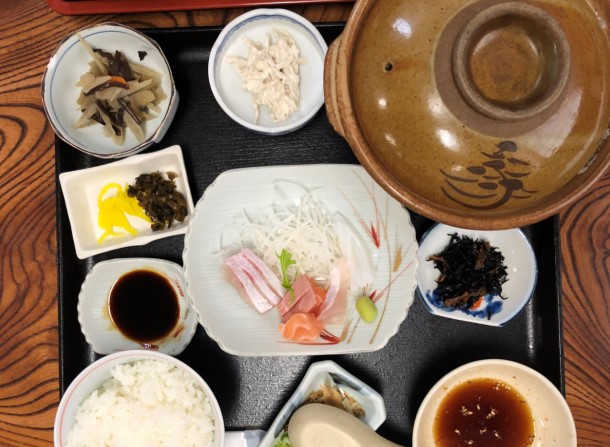 刺身 付 き 湯 豆腐 定 食 (Sashimi tsuki yudoufu teishoku)
After a few hours of waiting, it is time for me to finally enjoy the famous yudoufu in this Ureshino. The three main courses are stewed tofu (yudoufu), sashimi and rice, and some other side dishes. In Japan, almost everywhere I go to eat there will be such dishes.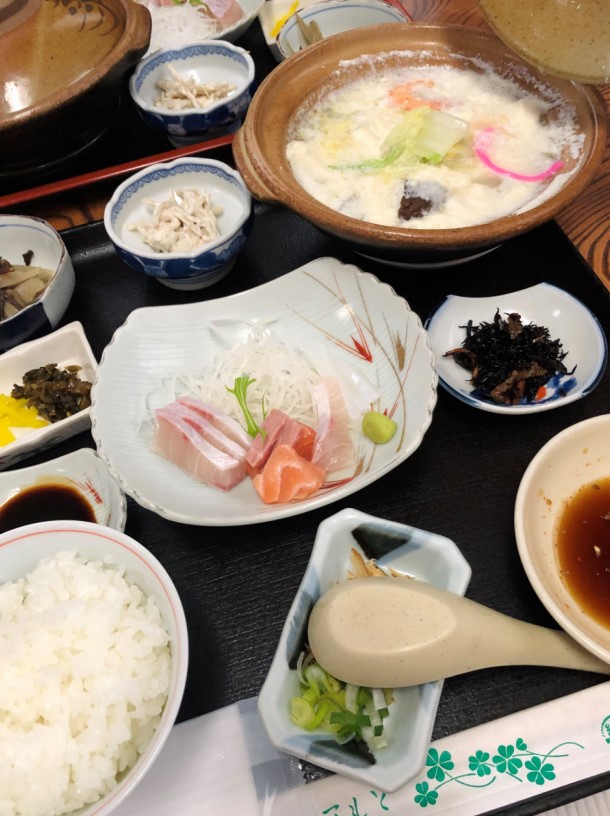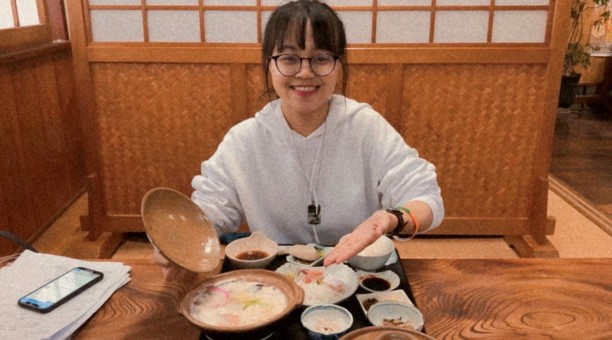 The taste of this yudoufu is both strange and familiar, all the ingredients are cooked for a long time so it's very soft. At first glance, it feels a bit like Sushiro's Chawanmushi but when it comes to taste it's completely different. The broth is sweet, you can add some Ichimi (chili powder) if you like spicy food.
On cold days in Japan, there is nothing better than enjoying Yudofu cooked like a hotpot, watching the warm waves rise in the winter weather and inhaling the rich flavors of the ingredients in the pot of hot pot water, just thinking about it stimulates the taste extremely. This dish is very special so you must definitely taste it.
Information
Yokocho
Address: Saga-ken, Ureshino-shi, Ureshino-machi, Shimojuku Otsu 2190
TEL: 0954-42-0563
Business hours: 10:30 ~ 21:00 (last order until 20:30)
Closed: every Wednesday (compensated if a holiday hits Wednesday)
After eating, we walked for about 20 minutes to get to Warakuen for onsen. I heard that the onsen here is the green tea onsen. But unfortunately, it only opens until 2pm. So we took the bus back to Fukuoka.
Warakuen is a Japanese-style inn built along the banks of the Ureshino River. At 茶 心 の 宿 和 楽 園 (Chashin no Yado Warakuen), you can experience a very rare tea bath in Japan where you can take a tea bath from the wonderful Ureshino hot spring. You can also take some time to relax with the aroma of the tea while soaking in the hot water. Outdoor tea baths (also known as open-air baths), which can help you cure a number of illnesses, with the scent of tea and catechins are very popular.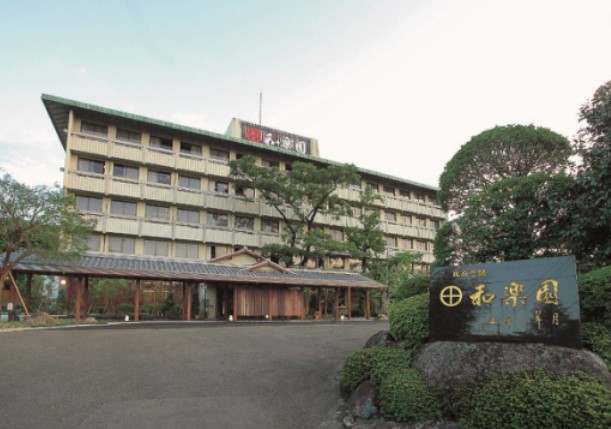 With the theme of Ureshino's specialty tea, you can enjoy it in a variety of ways such as flavoring, drinking, eating or dipping.
Ureshino Onsen is known throughout the country as a beautiful hot spring for the skin. If you are a person who loves onsen baths, please try it out at Warakuen.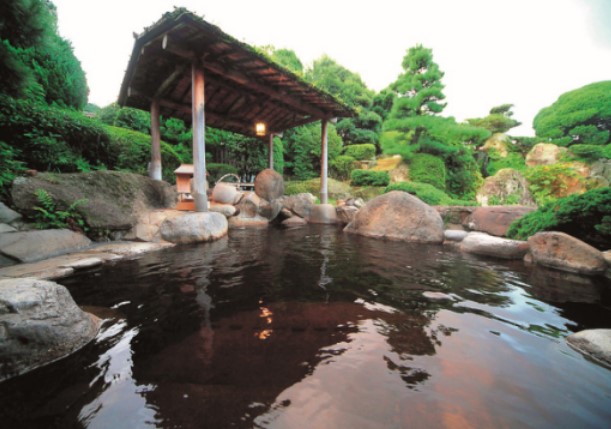 Information
Address: 843-0302 Saga-ken, Ureshino-shi, Ureshino-machi, Shimono kou 33
TEL 0954-43-3181
FAX 0954-43-3187Check in: 15:00 – 20:00Check out: 10:00
Like if you like this article