Introducing Japanese craft gin from Tottori Prefecture!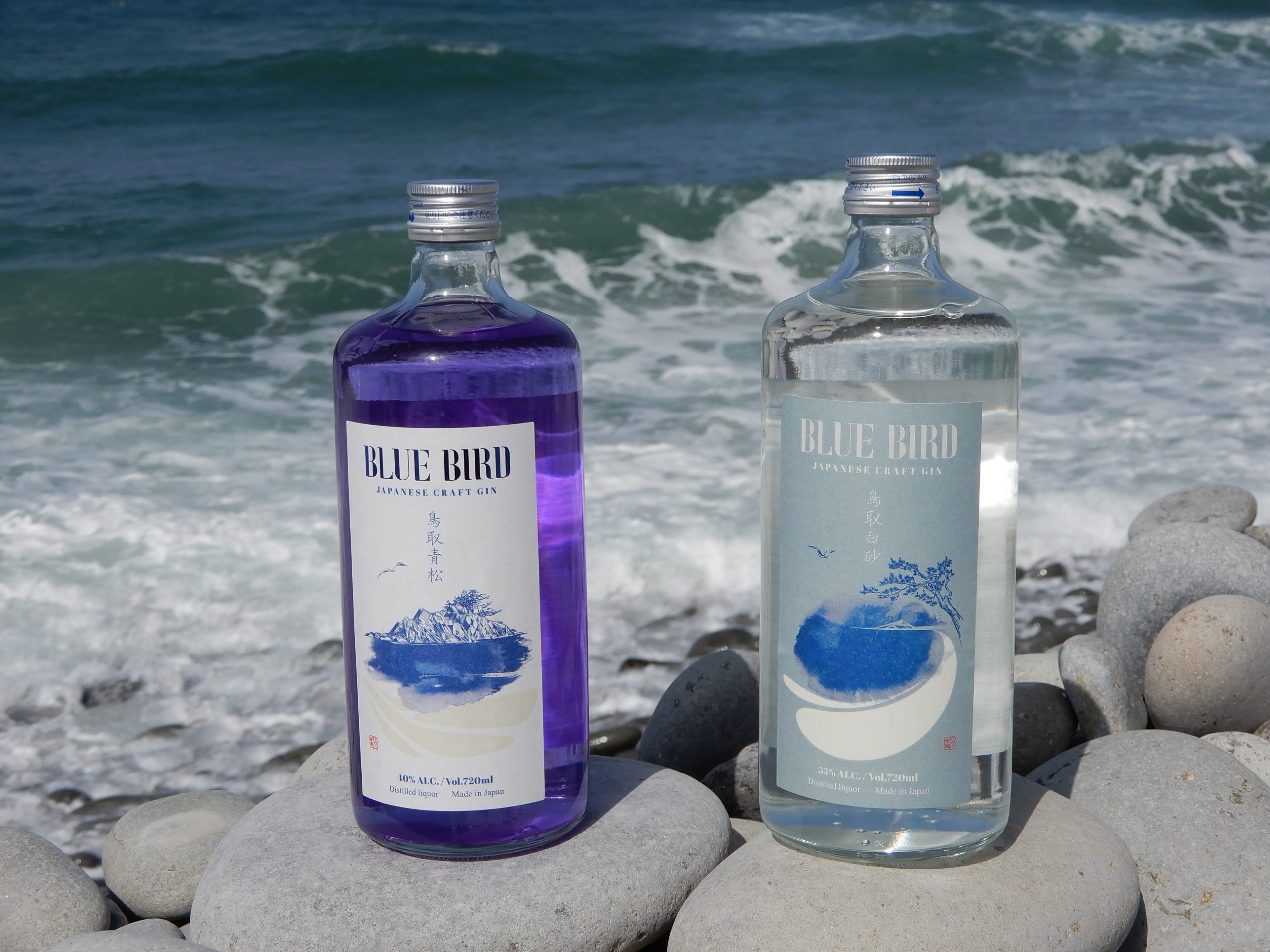 "Craft Gin BLUE BIRD Tottori Hakusuna" 720ml, 55% ALC
Two bottles will be released simultaneously.
Craft Gin "BLUE BIRD"
Bathed in the sea breeze of the Sea of Japan and fed by water flowing from the Chugoku Mountains, Kotoura Town is a place of scenic beauty and rich natural flavor. In order to send a shout out to the proud people who grow delicious agricultural products there and send them to tables all over the country, as well as to all the people who work to protect the region and enjoy living on this lapis lazuli-colored earth with a passion, this mysterious and attractive "fire liquor (spirit)" was created.
It is a Japanese craft gin with a fruity flavor, made from carefully selected ingredients, such as Tottori Prefecture's representative fruit, the Nijisseiki pear, blueberries grown by our company and others, butterfly peas, and sweet lemonade.
This drink is named "BLUE BIRD" to bring happiness to those who drink it.
This gin is named "BLUE BIRD" to bring happiness to those who drink it, and it is a special fruity gin that invites you to relax and enjoy your time. This is a drink for people who enjoy elegant and luxurious adult time. It is the kind of craft gin that can make an ordinary weekend into a special time. It is the perfect gift for yourself or as a present.
The mysterious lapis lazuli color of Tottori Aomatsu is a natural pigment from butterfly peas. When poured with tonic water or other citrus beverages, the color changes to a gentle pale reddish purple.
Our commitment to botanical ingredients
・Juniper Berry
Juniper berry is the fruit of a coniferous tree called the common juniper. It is widely distributed in the relatively cold regions of the northern hemisphere. The juniper berry is an essential botanical ingredient for gin. Without it, there would be no gin.
・Nijisseiki Pear
The Nijisseiki Pear, from the Tottori Pear Kingdom, has been cultivated in Tottori Prefecture for about 100 years. The Nijisseiki pear flower has been designated as the "Flower of Tottori Prefecture. The annual harvest accounts for about half of the nation's total harvest. The Nijisseiki pear is also one of Japan's leading export agricultural products, and is characterized by its refreshing sweetness and freshness.
・Blueberries
Fresh Berry Farm (operated by Agri-Net Kotoura) started cultivating blueberries in 2004 in Kotoura Town, Tottori Prefecture, and harvests rabbit-eye blueberries, which have a strong flavor and sweetness when they are fully ripe. The sea breeze from the Sea of Japan, subsoil water from the Daisen mountain range, and proper cultivation management make the blueberries rich in flavor.
・Butterfly peas (Tottori Aomatsu only)
Butterfly peas are cultivated in Tottori Prefecture and in Laos and Thailand, and processed in Japan. It is a member of the Fabaceae family called butterfly pea. It is a mysterious plant that can extract its natural mysterious blue color by using the petals of its characteristic blue flowers.
The blue color of the alcoholic beverage is due to the natural pigment of the butterfly pea flower, which has a tendency to fade when exposed to light for a long time, so please keep it away from direct sunlight. The blue color of the drink is due to the natural pigmentation of butterfly pea flowers.
・Sweet Lemonade
We use sweet lemonade grown in Tottori and Kumamoto prefectures. It tastes like a combination of sweet summer, lemon, and tangerine, with a sugar content of 10 percent.
We wanted to make and drink a craft gin that used these botanicals to their fullest. This gin is a unique, high-quality spirit with a complex, aromatic flavor.
Please give it a try.→ Click here to order.
Like if you like this article