Enjoy a variety of classic cameras "Screen Size and Camera Exhibition"
This collection exhibition "Screen Size and Camera Exhibition" is being held at the Musée Fukuoka Camera Hall.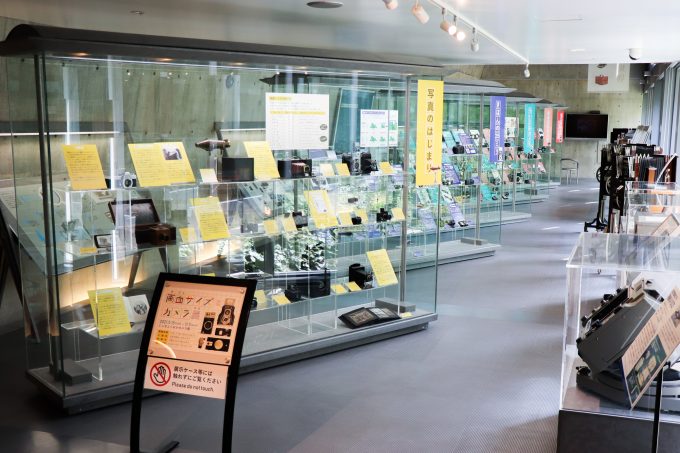 "Screen size"  is the size of the image that remains on the film.
Throughout the long history of cameras and photography, many photosensitive materials have been discovered, and many  screen sizes have been created.
From small cameras to large cameras, we introduce a wide variety of cameras from the perspective of "screen size" that is always fixed for cameras.
A total of 103 items are on display, including the interior of the camera, which is usually unseen and precious photographs made of glass from the 19th century.
Enjoy the world of classic cameras.
A special photo exhibition is currently being held
Tsutomu Takasaki Photo Exhibition "Where are you now?"
Event period : 5/15 (Sat) -7/11 (Sun)
It has been four years since the solo exhibition of "30 Years of Travel Trajectory" held at the museum. A new exhibition by Tsutomu Takasaki, a photographer from Toyama City who is active in Tokyo.
In addition to art works, daily snapshots will be released for the first time with sensitive sentences. This is a photo exhibition where photographers aiming for the next stage can see what they feel about Corona and how they live.
Event period
May 15th (Sat) -July 11th (Sun)
Venue
Musee Fukuoka Camera Hall
Opening hours
 9:00 to 17:00 (admission is until 16:30)
Closed
Monday (the following day if it is a national holiday)
Admission fee
Include the special photo exhibition.

Until Sunday, July 11

General 500 yen, high school / university students 300 yen, free for junior high school students and younger

* Free for high school students on Saturdays, Sundays, and holidays

* 400 yen for people over 65 years old (please show your driver's license etc.)
Like if you like this article